A Space to Call Your Own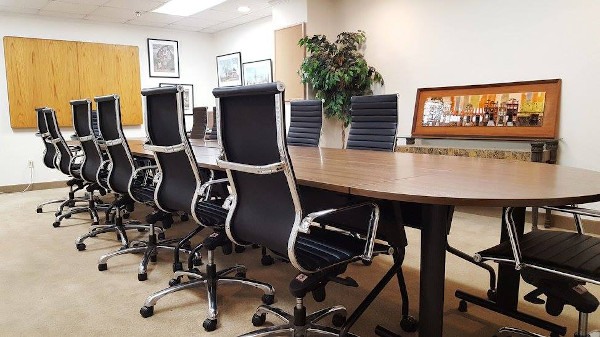 Have you reached a point in your career where you need flexible work space?
Is your part-time job starting to require a part-time office?
Do you crave the routine of leaving the house and working in a space with other professionals?
If you're considering working outside of your home – but you don't want to take on the responsibility of signing a lease – a coworking space may be just the right solution. But it's important to find the right one… to find one that aligns with your work style, your hours and your business goals.
Location, location, location
If you've become accustomed to rolling out of bed, pouring a coffee and sitting down to work… are you ready for a commute? Think about how far you're willing to drive, traffic patterns, and how much wear and tear you want to put on your vehicle. You're in control.
Also, think about potential partners or vendors. Is the location you're considering convenient to major highways? Is it close to a major city where your industry thrives?
Amenities
As you're shopping around for flexible office space, think about what type of space you'll need – today and in the future. Do you need a boardroom to hold important meetings? Will you need to conduct trainings in a classroom-type environment?
Are you craving open-air cubicles where you can pop in some earbuds and thrive off the energy of others, or do you want a space with a door where you can get some peace and quiet? Some co-working spaces are more accommodating for head-down focused work, where others are better for collaboration, networking and meetings.
Is there ample parking for you and your guests? Is the parking lot brightly lit when working after hours? Are the restrooms updated and maintained? Is there a place where you can grab a cup of coffee, or a fridge to place your lunch? Are there photocopiers and printers available? How's the wi-fi? Some office spaces even have administrative support and a receptionist to greet you and your guests. Find out what type of environment you need – all the goodies, or no frills. All of these factors and amenities should be taken into consideration when you're thinking of purchasing flexible office space.
Do your homework
If you're thinking of renting co-working space, do a trial first. Do the offices have natural light? Are the chairs comfortable? Do you feel productive there? The overall vibe you get at a workspace is probably the most important thing you can pressure-test before you commit to a longer-term agreement.
As you're pouring your coffee or hanging up your coat, ask the people around you how long they've been working there. What do they like about it? Are they happy?
And don't forget to look online for reviews. Of course, almost any business is going to have a few bad reviews (sour grapes!) but if there are more positives than negatives – you may have a real gem on your hands.
The packages
The structure of the packages – and the rates – need to fit your business model and your lifestyle. Do they require a deposit, or a long-term commitment? Do they offer 24-hour access so you can come work whenever the mood strikes you (or the kids are in bed!) Can you come in just for a day, a week, a month? The very definition of flexible office spaces is that they must be flexible. That means they bend and flex to accommodate you, the customer. Choose a coworking space that suits your unique work style, and the needs of your business. You're there because you have a need – and the space you choose needs to fit that need perfectly.
Sobon & Associates offers flexible work space to professionals who need a space to call their own. Choose from private individual offices – interior or with windows – or desk space only. We offer daily, weekly and monthly rates, as well as executive board rooms and training space for meetings and events. Conveniently located at the junction of route 84 and 691 in Cheshire, we've been proudly serving the Wolcott and Waterbury community for 30 years.