Flexible Hourly, Daily, Weekly Coworking Plans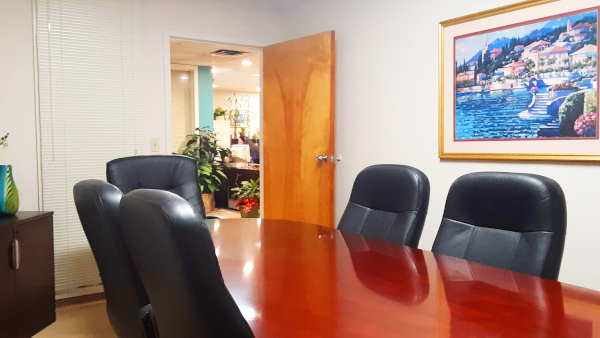 For some people, working from home is convenient and cost-efficient. No commuting. The ability to grab a snack at any time. The autonomy to run an errand at lunch time. But for others, working from home may not be 100% conducive to getting work done. The laundry beckons, the kids get off the bus and cause a ruckus… What if an employee's home environment isn't conducive to getting work done?
The answer could just be coworking.
What is Co-working?
Co-working is the ability to rent office space – or even just a cubicle – without investing in costly overhead like a lease, heat/AC, electric, phone, janitorial services and more. You simply reserve a desk, an office or a conference room – based on your unique needs – with no long-term commitments.
Flexible Coworking in Cheshire
Sobon & Associates offers flexible, cost-efficient co-working plans – book for a day, a week or a month. Our professional office space offers furnished offices (or unfurnished) so you can truly create the environment you need to get the work done. Plus, you can connect with other like-minded professionals over a cup of coffee (it's complimentary!) in a space that's designed for productivity.
High-Quality Coworking Amenities
One feature that truly sets Sobon & Associates' coworking space apart from others is our many amenities. When you rent coworking space with us, you'll enjoy:
A professional office building with plenty of free parking
Convenient location – just off rt. 84 and 691
A staffed reception area
Kitchen and copy facilities
Reliable, hi-speed Internet
Your choice of a private office or simply a desk space where you can work and make phone calls
Ask us about an office phone number and professional call screening from a live receptionist!
Coworking starting from just $20 / hour Discounted if more hours are required.
Reserve your office or desk space from just $20/ hour and gain access to a professional, business-focused workspace where you can reclaim your productivity!