Your Virtual Office Gets the Extra Set of Hands You Need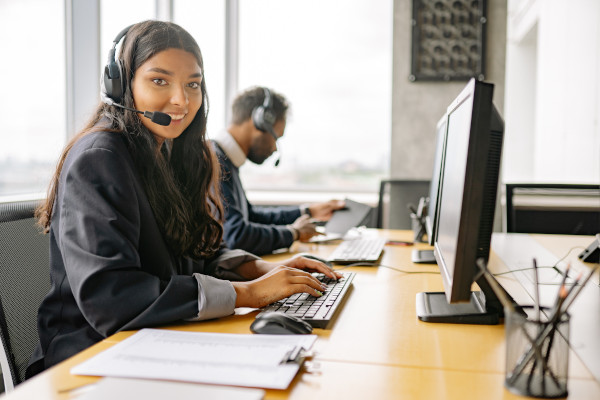 If you're an entrepreneur, a sole-proprietor or are just one of those people that needs a little help staying organized – Sobon & Associates has the support you need. Not only do we offer temporary office space on an hourly, daily or monthly basis, but we have an on-site support team that can help you be polished, professional and well organized.
Nobody says "secretary" anymore
That's right – strike "secretarial help" from your vocabulary. Professionals today use the term "administrative assistant" or "admin" for short. With your temporary office, you'll get shared administrative services, such as sorting and handling your mail, greeting your guests, answering the phone, helping with photocopying – setting you up for success.
A staffed reception area
When your clients or guests arrive, they'll be greeted by a friendly, professional receptionist. We'll help them get comfortable, hanging coats and stowing any luggage they may have in tow. Your guests will be announced to you, and you can come greet them in the reception area, or have the front-desk staff bring them to you. You'll never be surprised by someone popping into your workspace when you're in the middle of a sandwich, or interrupting your brilliance. Our on-site support team has you covered.
Attention attorneys
If you're using our flexible office space for conducting closings and depositions, administrative support can be arranged for note-taking and typing up notes. Or we can arrange for a court reporter, just ask.
Need even more support?
If you're getting prepped for a big presentation and need to call in the big guns, let us know. We can bring in support staff to help with audio-visual setup and ensure your presentation looks perfect on the big screen. And we can even help with creating the PowerPoint presentation itself, printing out agendas or handouts, stapling and binding. Ask us about specialized skills like bookkeeping, business management consulting and more!
3CTAs:
If you're seeking temporary office space in the Cheshire, Wolcott and Waterbury area and need administrative services to help your business excel, Sobon & Associates is the solution. Call for a free estimate today.
Ready to take the next step? Call Sobon & Associates to arrange for a tour or to book your office space today.
Staffed reception, administrative support and flexible Hartford temporary office space are just a phone call away. Call Sobon & Associates today.